If you want to change things, know this: Involving people even with complex human needs, will get you to the right place. Faster.
A few weeks ago, I walked onto a stage for the first time to present my book, The Slow Lane. I was incredibly nervous. Would I be able to convey ideas I developed over a lifetime in just 10 minutes? And would a (very large!) room full of brilliant government officials from all over the world react to the ideas?
The event was the Creative Bureaucracy Festival, a fabulous annual gathering of over a thousand innovative and creative government officials from around the world. If that sounds like a crowd you are interested in, this is the place to be! After a lot of pondering, I decided to share the 40-year journey of Albina Ruiz and a growing movement of waste-pickers in Peru to show the five Slow Lane Principles in action. It felt risky, at first, since most bureaucrats in the room were from countries in the global North, who have infinitely more resources than a slum in Peru. And yet, the story holds vital clues about what it takes to hold the urgency at a moment of crisis, what it takes to listen and believe in the capabilities of everyone, even a stigmatized and illiterate waste-picker. And the power of real change that can be unlocked, if we take the Slow Lane: Hundreds of thousands of waste-pickers now self-identify, with pride, as recyclers. Protected by laws in Peru, they helped to write. They no longer suffer extreme poverty and have become central to achieve the Clean Peru agenda. They're also enforcing the implementation of waste and environmental legislation in all 1,800 municipalities in Peru. And Albina Ruiz is Peru's minister of the environment.
Eyes lit up in the room. After the talk, people told me about an 'aha!' moment, where they saw the power of a form of leadership that takes time to empower others to create solutions.
Echoes In The Classroom
Then, last week, I experienced my own 'aha!' moment. My colleague at Ashoka, Katharina Hinze, had organized an immersive experience with the IIB - Institut für Inklusive Bildung (Institute for Inclusive Education) in Hamburg. It was an experiment, to see how participants would respond to a story of real change, told by someone travelling this kind of journey to empowerment.
Teachers told Isabel "Don't worry, you won't need to learn English."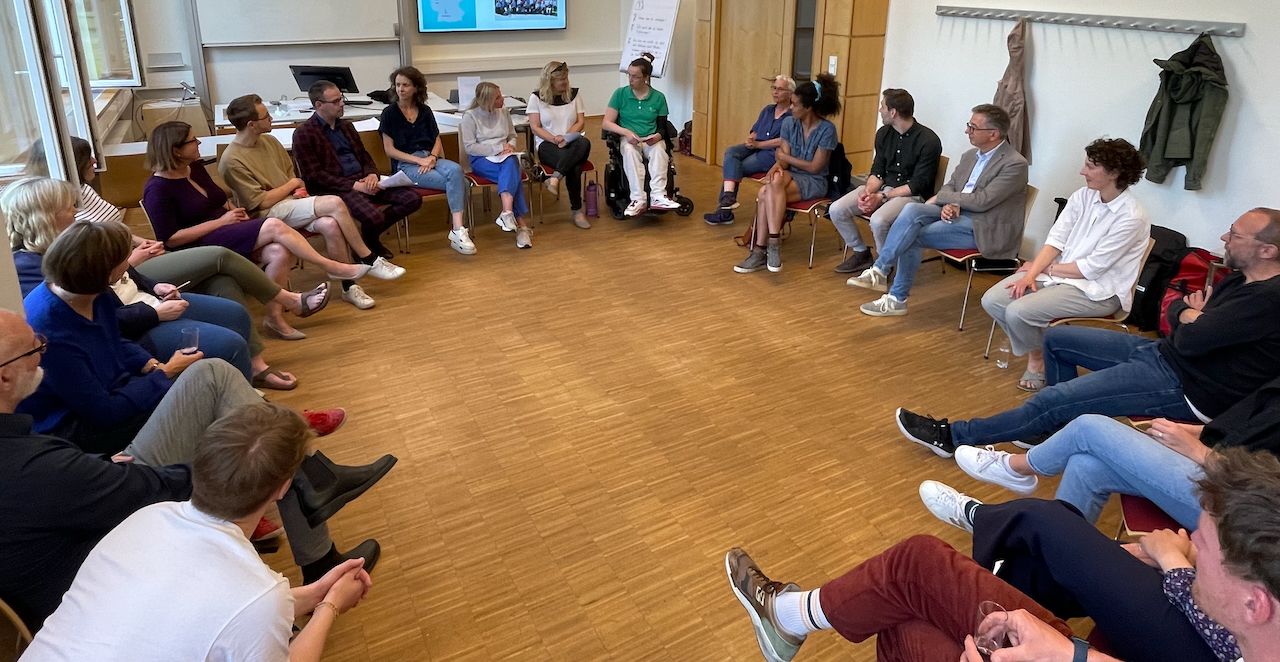 Here we met Isabel and Samuel, two professional lecturers at Kiel University. Ten years ago, they were both employed in a sheltered workshop, an employment scheme for people experiencing physical and learning disabilities. Isabel told us that the idea of these workshops is that they prepare people for the job market, and yet less than 3% ever leave the sheltered workshop. And for Isabel, that was going to be her fate.
Growing up, Isabel had been told by teachers that she wouldn't need to learn English, after all, she would never need a foreign language. As she progressed through school, there were no conversations about career choices: after all, she would end up working in a sheltered workshop. There, she grew ever more frustrated. Put to work endlessly on packing and labelling envelopes made her experience her disability at every turn. Her motor skills were ill-suited to the task (performed with ease by those around her), and her cognitive skills were completely neglected in the repetitive work. Her self-esteem took a dive.
The Invitation
Then, an opportunity opened up: IIB offered people to apply for their program to train becoming university lecturers. The idea was simple: Universities are deepening divisions and stigma of people with disabilities by not employing them. Especially students of social work, public management and teachers learned about people with disabilities and special needs, but never got to meet them. A three-year training co-created with Isabel and her small group of peers prepared them to educate others through their lived experience.
It took a big team to work with Isabel on making this transition. One part was to develop the necessary skills to become a competent lecturer. Isabel is a fabulous, funny and engaging speaker. Samuel, likewise, has gone from being an angry and frustrated trouble-maker at the sheltered workshop to being a much loved lecturer and colleague. The secret, it became evident, was that Isabel and Samuel weren't trained as much as invited to create the ideal working environment to flourish. They describe their team at IIB like a family.
It Takes A Team To Recover Broken Courage
My own 'aha!' moment came when they told us about the extensive psychological work they need to do, all the time. They discuss how to draw boundaries in sharing their private lives as a matter of educational content. They reveal to one another their vulnerabilities, to develop ways of compensating for one-another in the team. And, they work extensively on courage. It takes courage to speak in front of five hundred students. It takes courage to leave the sheltered workshop and hope for change, especially when your life has had more than a fair share of disappointment.
And discouragement. What became so evident in their stories was how the team was not just there to create an environment where Isabel, Samuel and other lecturers could thrive according to their strengths and capabilities. Working on courage means that they also have to make up for the work of another team that had undermined their self-esteem for decades: the teachers, schools, authorities, sheltered workshops and society at large that had made the effort to tell them, at every turn of the way, that they would never thrive. That Isabel wouldn't need to learn English. What for?
Isabel would like to tell that former teacher, that she now needs English regularly. For example, on her travels as a speaker and panelist at international academic conferences.
Slow, The New Fast
Going slow means approaching change with care. Instead of looking for a quick technical fix, Albina saw how intertwined the plight of hundreds of thousands of waste-pickers was with the problem of trash on the streets of Peru. And instead of turning away from the complex human mess that other engineers despise, she embraced waste-pickers and put them at the heart of cleaning up Peru. Similarly, the Institute for Inclusive Education saw that universities avoided employing people with disabilities and instead taught students who one day would have to work with them about them. You can see how easy that can lead to reinforcing stigmas, prejudice or, as Samuel put it, "Making it seem like all disabled people are the same". Instead, Samuel and Isabel bring authenticity to the education, helping people overcome discomfort and see the rich humanity and capability of their lecturers.
Isabel has currently set her eyes on a driver's license and buying a car to drive to work…
And just like Peru's waste pickers keep upping their self-definition as their confidence and capabilities grow – from waste picker, to recycler, to essential partners in transforming the nation – so do Isabel and Samuel. Asked about how working as lecturers at the university has changed their lives, they were almost speechless. Where to start? The confidence, of eating at the university cafeteria as part of the teaching staff? The independence of earning real money to fund life choices, instead of asking government authorities for permission? Or the courage, to do more: Isabel has currently set her eyes on a driver's license and buying a car to drive to work…
This is why going slow is the new fast. Embracing change with care for everyone will get us to the RIGHT place, the kind of world we want to live in, much faster.
---
The Slow Lane is now available as an Audio Book on Audible and Amazon and for Pre-Order in print and Kindle formats!

The Slow Lane Book
Why Quick Fixes Fail And How to Achieve Real Change - published by Berrett-Koehler Publications. Out this Summer.
Order Now
Want ten or more copies for your team, colleagues or friends? Contact Leslie Davis at Berrett-Koehler Publishers to get 20-40% discounts on all editions. ldavis@bkpub.com