The Slow Lane will be out in 110 days. A good time to share what people I greatly admire have to say about it!
No, I am not a flying duck. But still, it feels like we are about to touch down. In 110 days, The Slow Lane book will be available in bookstores, for e-readers, and as an audiobook. Thank you for joining me in this journey! Today, I can share a new piece of the book: The four incredible people who agreed to share their thoughts about The Slow Lane on the back-cover. And why that means the world to me.
What they say.
One of the most exciting parts of publishing a book, I learned, is to ask people I greatly admire for an endorsement. I spent hours honing my short, yet meaningful and witty requests, trying to achieve a casual lightness to my ask. As if. How would I get Darren Walker, the President of the Ford Foundation; Saskia Sassen, the sociologist who changed the way we look at globalization and cities; acclaimed author and psychologist Dr. Philip Zimbardo; and Anne-Marie Slaughter, the CEO of New America, to consider my writing and endorse it? Well, it happened after some creative follow-ups, and an inexplicable leap of faith by these extraordinary people to take the time to peek into The Slow Lane. Anne-Marie Slaughter even agreed to write a beautiful Foreword.
I lost a great deal of sweat over asking for these endorsements. The Slow Lane is a declaration of love for people who create real change in the world, in deeply caring ways. And so, I asked them, too, to tell me who they would love to endorse the book. The Slow Lane is also deeply personal, and an attempt to put real change within reach to people of any means. These people aren't just special to me, but all of those involved in the Slow Lane. Here is what they said, and what it means to me.
---
"A beautiful journey in the slow lane, an alternative to the autocratic and divisive forms of leadership that respond to complex challenges by opting for the kind of quick fixes that are doomed to fail."
—Dr. Philip G. Zimbardo, psychologist and New York Times bestselling author of The Lucifer Effect and coauthor of The Time Paradox and The Time Cure
Philip Zimbardo is one of the most extraordinarily kind, fun and generous people I have met. He came to fame as one of the creators of the notorious 1971 Stanford Prison Experiment that derailed a group of regular Stanford students into losing their humanity within just six days. I met him more than forty years later in Hong Kong, where he talked about his mission to equip ordinary people to do extraordinary things, through the work of his Heroic Imagination Project. I wanted him to share his thoughts about The Slow Lane because I saw ordinary people bringing about audacious social change in deeply caring ways, withstanding the temptation of quick fixes and divisive tactics. What I learned was so different from the bleak findings of the Stanford Prison experiment, and no less hopeful than the idea of preparing ordinary people to become everyday heroes, who might step up instead of submitting to power games.
---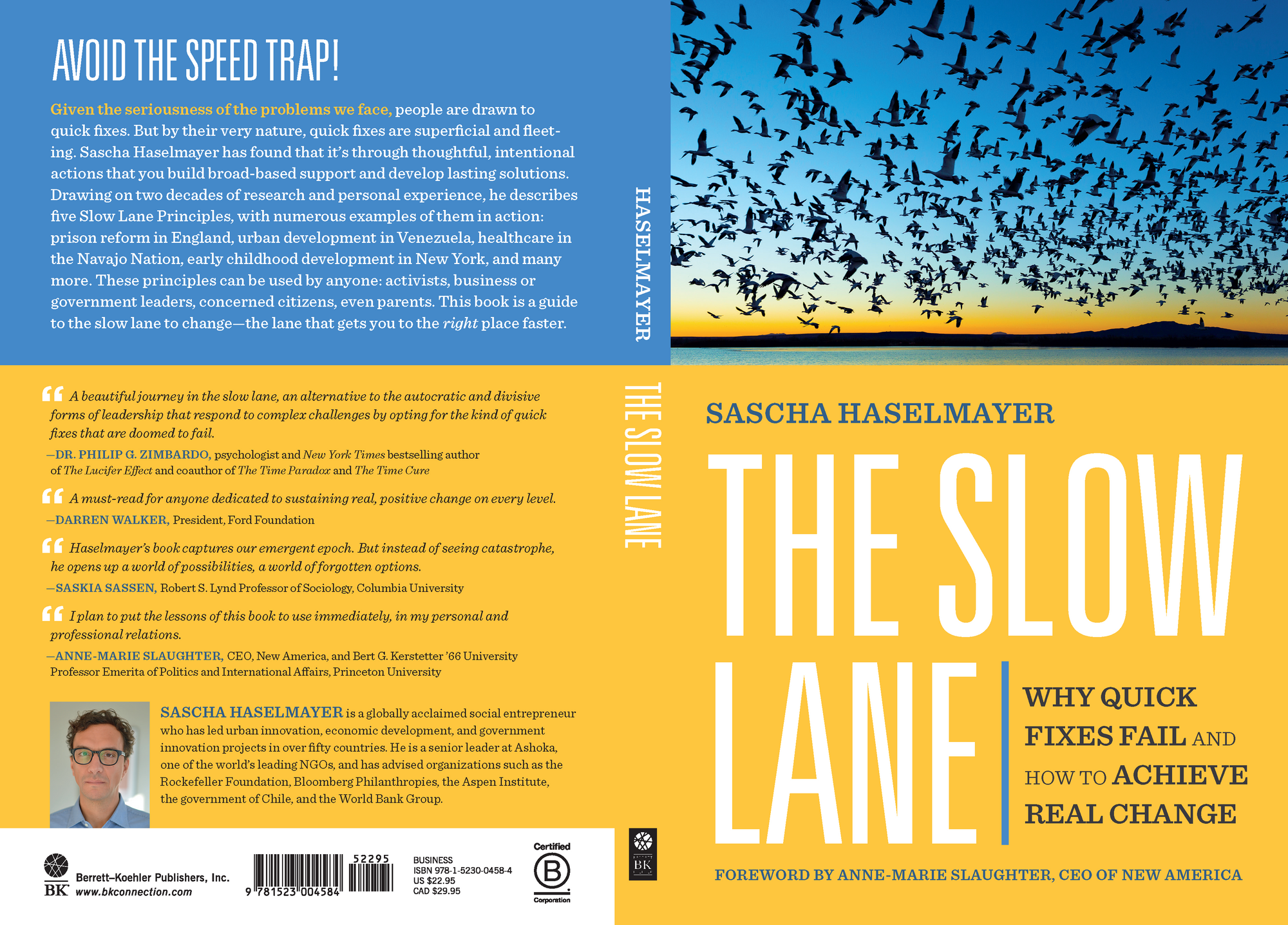 ---
"A must-read for anyone dedicated to sustaining real, positive change on every level."
—Darren Walker, President, Ford Foundation
When I asked people in Slow Lane movements about whom I should ask for an endorsement, one name kept coming up: Darren Walker. I, too, think of him one of the most inspiring leaders in philanthropy today. Growing up in poverty, he now is the president of the Ford Foundation, where he oversees an endowment worth billions of dollars. He is using this position to openly challenge himself and others with power to ask how the privilege of philanthropy relates to the big questions of social justice, and injustice, in our times. In a world for long reserved for experts and elites, he embraces the discomfort of hard truths. When he challenges the widespread acceptance of inequality that defines so much philanthropic giving, he brings to life the very slow lane practice of engaging with systemic causes of injustice and inequality, by calling out these dysfunctional systems. And then supporting those affected, to pursue social justice and take charge of the slow journey to take ownership of their stories, and build better systems. This means, accepting not just experts at the table, but paying equal attention to the ideas of the communities we are trying to help. No wonder, then, that so many Slow Lane movements see him as such an invaluable partner to bring about their audacious visions.
---
"Haselmayer's book captures our emergent epoch. But instead of seeing catastrophe, he opens up a world of possibilities, a world of forgotten options."
—Saskia Sassen, Robert S. Lynd Professor of Sociology, Columbia University
Architects, like myself, like to consider ourselves to be experts in just about everything. Ask a two-person architecture firm if they could build an airport, and they are quite likely to say yes. So, when, more than twenty years ago, I read Saskia Sassen's book The Global Citiy: New York, London, Tokyo I was blown away. Her intricate rigor by which she was dissecting the way the global economy was reshaping our cities and producing deep social injustices inspired so much of my work. She wasn't describing architectural form or selling us a new economic growth trend. Instead, she is a chronicler of how unfettered economic activity was feeding what divides us, causing ever more injustices. She brought complex, invisible systems into the light. And she showed how global cities like London, New York and Tokyo had become international territories, much like special economic zones, for the kind of unregulated Fast Lane financial capitalism, that went on to cause the financial crisis in 2007/8 and led to the Occupy movement in more than a 1,000 cities. It also puts the transformative power and optimism of The Slow Lane into stark relief.
---
"I plan to put the lessons of this book to use immediately, in my personal and professional relations."
—Anne-Marie Slaughter, CEO, New America and Bert G. Kerstetter '66 University Professor Emerita of Politics and International Relations, Princeton University
It all really started with my Fellowship at New America in 2020. It was here, that the Slow Lane began to take shape as an idea, and as a book. In January 2021, I curated The Slow Lane issue of The Commons, with a piece called Fast Tech, Slow Change in which I began to unpack the experience of trying to solve public procurement through technology. Anne-Marie Slaughter, as the CEO of New America, was the person who created the kind of space where ideas like the Slow Lane could unfold. I recall meeting her for the first time, on Zoom, intimidated by her long list of credentials as well as the incredible institution she was now leading. And then it took no more than a couple of minutes to feel at ease in a way that I do when I feel heard, engaging in a conversation with a deeply kind, curious and generous person. No surprise, then, that she does a much better job than me at explaining the central theme of The Slow Lane in her beautiful Foreword to the book:
"Trust must flow both ways in a change process. Individuals trapped in dysfunctional systems must believe in the possibility of real and lasting change. Yet, those who would help enable that change must also trust. It turns out that trust on the part of those of us of who hold power means more than believing; it requires sharing agency and relinquishing control. Behavior change that is hard and scary is typically required all round, at every phase of and for every participant in the change process."
---
Want to help?
As we are counting down, here are two ways in which you can help share ideas behind the The Slow Lane!
1/ If you know of podcasts, media, radio or newsletters that could be interested in publishing a review of the Slow Lane, please let me know! The Slow Lane is a great resource for people interested in creating real change, whether in government, business, activism, social entrepreneurship, volunteering or at home, in our families.
2/ Are you organizing a conference, workshop, webinar or other meeting where you would like me to talk about The Slow Lane? I would be delighted to! And if you like, we could invite along one of the wonderful people featured in my book. Please get in touch.